Meet Adelina Stanė, our Global Head of Talent Acquisition. Born, raised and based in Vilnius, Adelina joined Team TransferGo in April 2022 and is responsible for everything related to hiring and employer branding including managing a team of talent acquisition partners in Vilnius and Kaunas.
Here, Adelina Stanė discusses her favourite things about working at TransferGo; the projects she's proud of and excited about; how she unwinds after a long day; her love for travelling; her favourite Vilnius hotspots and much, much more.
What's your favourite thing about working at TransferGo?
The people I meet and how TransferGo changes every day. I've been here for around 10 months now and the company keeps changing and growing. I love the idea that I'm someone here and that I can make a real difference.
What's your proudest achievement to date?
I'm really proud that I was brave enough to switch careers. I went from a good career in culture management to a role in talent acquisition, which is where my heart took me. At TransferGo, I'm really proud of the processes I've created here. I believe they've made things clearer and enhanced the overall candidate experience.
What are the biggest challenges you face in your role?
People. When you work in talent acquisition, you meet a lot of people internally and externally. And each person comes with their own personality, demands and questions. I chose this role for the people but it's also the most demanding and challenging aspect for me. At the same time, it's also the most interesting.
What are you currently working on that you're excited about?
We're currently working on a talent acquisition strategy for the year and we're putting up a roadmap. It's very exciting to build the road that we'll be going on. I'm looking forward to seeing how it goes, what needs to change and what we come up with in the end.
Do you have any big ambitions outside of what you're currently doing?
I'd really like for people to be excited about where they work and be proud to work here. And also for people who don't work here to want to join us. I'd like for us to be known and for everyone who sees our job ads to go, "Oh, wow, this is the company I want to work for."
What are the values that drive you?
When I first joined TransferGo and saw the values on the wall of our Vilnius office, one of the values was 'Own it' and this is what I most connected to. I like the idea that you're responsible for your own development and for everyone you meet. This is the main value that drives me and the one I share most with the company.
What have you learnt while working at TransferGo?
To trust other people. I've been slowly learning this for a long time but I've truly learned it at TransferGo. It's important to trust people and trust that they can do things and I can get the help I'm asking for.
Does working from home work for you?
I work from the office most of the time but I sometimes work from home. I'm a real people person so I love being in the office and meeting people in the hallway and at the coffee machine. I love to meet people from different departments too. I'm very curious and interested in what other people do, what their jobs look like and the different department dynamics. The data team is a lot of fun to be around with. I love meeting them next to the coffee machine and listening to their jokes.
How do you achieve a healthy work/life balance?
I achieve balance by travelling. I'm a big fan of travelling. I had a small blog about my travels, which went on Instagram and Facebook. These days, it's more of a picture review of my travels. I always have at least one trip planned. If I don't, I feel really empty and have to plan something. So far, I've travelled to 33 countries. I wouldn't say it's a lot and I really want to travel more. I'd like to go to New Zealand sometime in the next few years.
How do you unwind after a long day?
Netflix and books. I was never a big fan of reading but audiobooks have helped me a lot. In the evening, I'm usually listening to some sort of book as it helps me unwind. I've just finished The Witcher book series and I'm now looking forward to something new.
What does your typical weekend look like?
Usually, when nobody is sick, my family and I go for a walk to the centre of Vilnius, grab coffee and snacks and just enjoy the city. We only live 1km from the cathedral. I really love walking. When we're travelling, we're usually doing everything on our feet.
And now for the quick-fire round…
Favourite city?
I really like Vilnius, it's amazing. But every city I go to has the potential to be my favourite city. I'm in love with everything in Portugal but the one city that left me truly amazed was Sarajevo in Bosnia and Herzegovina. There's just something about that place that's out of this world. I really want to go back.
Favourite meal?
I love Thai food. The street stalls in Thailand are amazing. They do this homemade soup made with chicken and noodles and it's a taste that's only there. When you go to a Thai restaurant somewhere else in the world, it's just not the same. They do something special in Thailand. As well as Thai food, I also love pasta.
Favourite restaurant in Vilnius?
I'm not a big fan of restaurants but I do love coffee and dessert. For me, Chaika in Vilnius is my favourite. They have around 20 different teas and coffees and they serve amazing vegan desserts. It's in this old, wooden building so it's very small and cosy. You usually have to wait for a table. It's amazing.
Vilnius' best-kept secret?
In Vilnius, there's a rain collector tunnel under the city but you can get into it freely. You travel underground through a dark tunnel and you end up on the other side of the city. It's not for everyone but for me, I'd say it was the best-kept secret Vilnius has. Just make sure it's not raining when you go.
Favourite music artist?
I'm the biggest fan of Coldplay. I've been to six of their concerts. Usually, when there's a tour, I find an excuse to go. It's also a great way to travel. I've seen them in many places including Paris, Brussels, Prague and Warsaw. They sound better live each time.
Favourite book?
I'm more of an audiobook person these days. I really loved listening to the Harry Potter books in English and now I'm reading them in Lithuanian and I still love them. A book that left a big impression on me was The Name of the Wind by Patrick Rothfuss.
Favourite movie?
I'm a big sci-fi and fantasy movie fan. I love anything that falls into those genres. The Dune was amazing and I'm a big fan of all the Marvel movies. My favourite of the recent ones was Doctor Strange. Benedict Cumberbatch is amazing! As for my favourite movie of all time, I love Inception and Love Me If You Dare.
Best advice you were given?
Don't stop, never look back and don't regret anything. Everything that happens happens for a reason. And once it's happened, just move on.
______________
And if you want to send money from home, we're here to help. Our transfers are cheap, fast and fuss-free. Sign up today for easy online money transfers.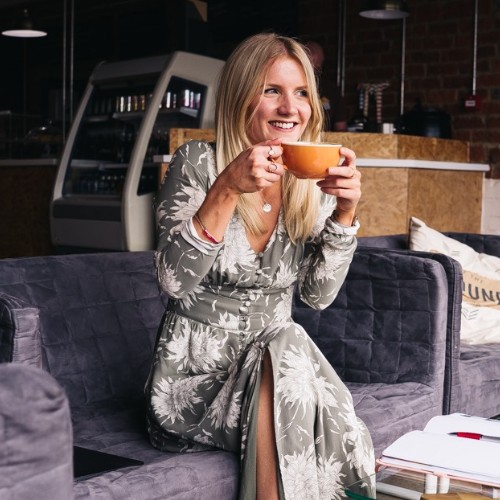 About the author
Jennifer Tate
Jennifer Tate is a freelance copywriter based in Newcastle upon Tyne with over 12 years of experience in creating copy and content for both leading brands and independent start-ups. Working across a variety of sectors from fintech to fashion and healthcare to homeware, Jennifer specialises in content creation, content management and social media strategies and has worked with TransferGo since 2017, shaping and creating the company's LinkedIn and blog post output. As well as TransferGo, Jennifer has also recently created copy and content for Charlotte Tilbury, carecircle, Tommee Tippee and Robinson Pelham.