Meet Marius Nedelcu, our Chief Marketing Officer. Born in a small town near Bucharest, Romania and now based in London, Marius has come a long way since he first joined our team in July 2016 as Country Manager for Romania. 
Here, Marius Nedelcu discusses his role as CMO; his journey from fitness to fintech; his love for London and working for TransferGo; and how he counts himself lucky to have such an amazing team.
"If you stay put and don't travel, it's difficult to grow, develop and open your mind. I think London is one of the most exciting cities in the world…
When I first joined TransferGo, there weren't many nationalities. But today, we have people from countries all over the world. It's very exciting. It's a massive benefit to work for a company with so many cultures. Every individual brings something different to the table. You can see the differences in the jokes, behaviours, learnings and experiences. I always like to experience different cultures, markets, mentalities and ways of doing things. If you stay put and don't open your mind and learn about new people, you just don't grow.
Even before I moved to London, I've always loved the city. But once I was here, I realised I also loved the culture. It's so multicultural with so many nationalities and trends coming from everywhere. I particularly love how people don't judge. You can live your life however you want to. You can wear whatever you want to and nobody cares. The multicultural aspect is helping London to be what it is. I know it's busy and it rains but it's such a relaxed and tolerant place. I think it's one of the most exciting cities in the world."
"I'm really proud of the work we do; people have worked with us for a very long time and the work ethic is amazing…
When I first moved to TransferGo after 15 years in the fitness industry, my friends thought I was crazy. I hadn't worked in the industry before so how would I cope? In the first few months, I was wondering whether I would survive here and be able to help the company grow and achieve results. But here I am, over six years later as CMO.
I'm really proud of this transition and the marketing team that I've built, which essentially started from nothing (at one point, it was just me and one other person). Today, we have an amazing marketing team of 26 people that's so diverse and so good at working with each other. This is what I'm proud of. Some of the people I've hired and coached and the fact that our retention in marketing is quite high. People have worked for us for a very long time and the work ethic is amazing. People are very responsible and passionate and caring about their work and our brand. And I love that."
"I find our mission and values very exciting. We're helping a specific group of disadvantaged people in so many ways…
There are many exciting things about working at TransferGo but I'm particularly excited about our mission and vision. We know that we're helping a specific group of people. And that's something I can relate to. I had to leave my home country and move to a new country and figure out my way. I had to find a bank, find a job, figure out how to pay rent, adjust to a new culture and make new friends. So I understand the pain points.
I also love that TransferGo is a company driven by strong values. Of course, there's always room for improvement but it feels like we're always using our values and bringing them to the conversation. We use them when we hire, evaluate people, talk to each other and build working relationships. The learning aspect is also great. TransferGo allows us to learn. It puts a strong emphasis on taking risks, drawing conclusions and moving faster going forward."
"My favourite thing about the work I do is the leadership. Having solid learning in terms of how to lead people is instrumental…
My experience of leadership has shaped and changed over the years depending on which industry and country I'm working in. I started in Romania and then moved to Croatia, then Sweden and then the UK and there are so many differences. I started as a certain type of leader and now my experience with different levels and cultures has changed the shape of my leadership style. It's a really valuable thing, especially at my age when I'm looking at where I can go from here.
Looking ahead, I want to keep improving as CMO. I'm still kind of new to this particular role and so I'm looking forward to building more knowledge in different avenues, as well as leading more markets and learning about even more cultures. Growth is something that always excites me—seeing the numbers grow here and there and how the marketing team is contributing to that growth in a very measurable way is exciting."
"I consider myself very lucky to have such a wonderful team that can deliver anywhere you put them on this planet…
Our team is spread across Europe and so when Covid hit, I was already used to managing people over calls and not seeing people face-to-face. Of course, there was extra pressure to deliver in such circumstances but my team wasn't really affected. They have such a strong work ethic that I never questioned that they wouldn't do what they had to do if they weren't in the office.
We love it when our team can get together and we enjoy those times even more because we don't see each other that often. Although Covid was terrible and we don't want that situation ever again, it educated us to treasure the face-to-face meetings more. It also gave us back some precious time that we can spend with families or going to the gym or restaurants—time that we'd otherwise spend on travel or being distracted in open office spaces. I see some wins from that terrible event. It made us stronger and taught us many things."
"A positive take is definitely the way to do things. Every day is a fun day at TransferGo…
I love the positive people and vibes at TransferGo. There is no negativity. I don't think criticism helps people go further or achieve results. A positive take on everything is definitely the way to do things.
I also love being surrounded by such super-crazy smart and open-minded people. They help me to learn and develop further at my old age. Every day is a fun day here. It's like being at home. You can talk openly to people, learn new things, ask for help without judgement and work in whichever corner of the office you want to. It really is an amazing place to be."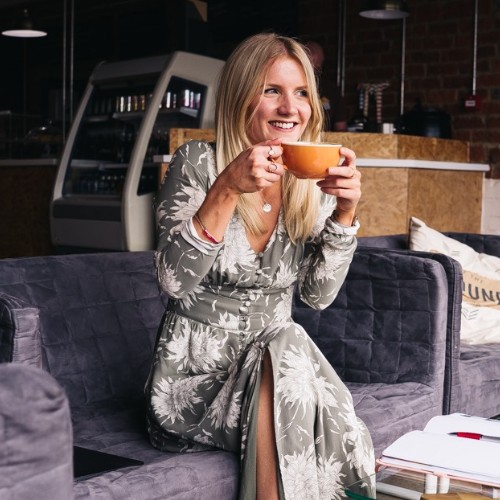 About the author
Jennifer Tate
Jennifer Tate is a freelance copywriter based in Newcastle upon Tyne with over 12 years of experience in creating copy and content for both leading brands and independent start-ups. Working across a variety of sectors from fintech to fashion and healthcare to homeware, Jennifer specialises in content creation, content management and social media strategies and has worked with TransferGo since 2017, shaping and creating the company's LinkedIn and blog post output. As well as TransferGo, Jennifer has also recently created copy and content for Charlotte Tilbury, carecircle, Tommee Tippee and Robinson Pelham.