Meet Francesco Fulcoli, our Chief Compliance Officer. Born and raised in a tiny village in Southern Italy, Francesco Fulcoli has come a long way in his 20+ year career, enjoying key roles working for the International Olympic Committee and Italian Government, as well as Oppenheiner Europe Limited, Revolut and IFX Payments. It's a journey that's taken him from Rome to London, New York, Hong Kong, Tel Aviv and Geneva.
Having joined our senior team over three years ago, Francesco Fulcoli has overseen and implemented many improvements to our product including automating compliance processes and creating a safe environment for our customers to send money.
Here, Francesco Fulcoli discusses the importance of technology, product and compliance working together, his curiosity and admiration for the Nash Equilibrium theory, the unique things about working at TransferGo and why there's no place like home. 
"I was in my 20s and working in an international environment, but when you're young, you don't feel the fear…
I grew up in a very small village in southern Italy called Gesualdo with a population of around 3000 people—that's fewer people than there probably are in The Shard. Straight after college, I started working in compliance to pay for my studies. It was for a local company doing quality assurance.
In 2006, I then moved to Turin to work on the International Olympic Committee. That was when I started to explore the world. I was in my 20s and working in an international environment. But when you're young, you don't feel fear. You don't understand the risk of what you're doing. So I went 1000km up North and lived in a small studio flat for about two years until the Olympic games ended. It was a great experience. I went home for a bit of a holiday and then moved again—this time to Rome as a Compliance Specialist for the Italian Parliament in the Defence Committee. That was a great learning curve for me in terms of understanding FinCrime and money laundering. After that, I got my university degree in Business Law and moved to the UK."
"Much of my life has been good luck; I sent my CV to Oppenheimer and left as a Director six and a half years later…
After graduating, I came to the UK in 2011 for a holiday. I had family here and I needed a break after working for the last 10 years. I liked London (who doesn't?) and so when I got here, I sent my CV to Oppenheimer.
Much of my life has just been good luck and Oppenheimer was interested in my experience and the fact that I could speak multiple languages. So I started there as a Compliance Specialist and left as a Director and AML Compliance Officer nearly six and a half years later. I was based in London but I also worked in New York, Tel Aviv, Geneva, Jersey and Hong Kong. I then went to Frankfurt; it was around the time of Brexit and the company was preparing to move some business away from the UK. 
Guided by my curiosity, I've had a great international career; I consider myself a traveller more than a Compliance Officer really. Seeing the world and how it works is something I enjoy. During this time, I ran a lot of projects as head of KYC. I remember we built the first eKYC for a Wall Street broker. We basically moved a KYC from a piece of paper to an electronic process. And this was one of the biggest projects in the KYC space at Oppenheimer. These days I can build a KYC process in three months, but at Oppenheimer, I needed a year. This gives you a feel for how much technology and compliance have changed in the last 10 years.
It was then that I understood that I could do compliance using technology. And when the fintech world started to grow in 2012, I became fascinated by it."
"Most compliance mistakes are made due to human error; I try to reduce these mistakes by providing the tools for compliance analysts to do their jobs…
I then moved to Revolut, where I acted as interim MRLO and built the FIU department structure there. When I was there, I was the only Compliance Officer in London but when I left, there were 1000 people in the whole company. It was when Revolut was moving from a start-up to a grow-up stage, so it was a very challenging period but I enjoyed it a lot and I have really good memories of that time.
After that, I moved to run a project in IFX payments, where I built the compliance technology for their fintech product. As my career developed, I like to say that I'm not just a Chief Compliance Officer, but more of a Chief Compliance Technology Officer. This is quite unique because my job literally involves automating compliance processes, which I was used to doing manually. But there's still human interaction in this process. My job is to team that human interaction with technology to make compliance easier. Most of the compliance mistakes in the industry are due to human error. So I've tried to reduce these human mistakes by giving the compliance analysts the tools to do their job."
"Working remotely slowed down many things; it was a challenge but I learned how to handle it…
In an international environment like TransferGo, doing my job on video calls is very frustrating. I'm a front-line man; I need to work on the front end and I have to be next to my team. I need to see and feel what I'm doing so I was a little uncomfortable with not being able to travel during Covid. That said, it opened up a new way to work because it showed everyone that it doesn't really matter where you're based as long as you can do your job. And that's something I've been saying for a while. 
But when you're able to sit next to your team, things happen faster. Sometimes when you use Slack, there's always someone who might misunderstand something. It's different. When we were acquiring new licenses, working remotely slowed down many things. It would have been much easier to meet people together and explain what needs to be done. I work much faster when I'm able to travel and meet people face to face."
"Curiosity and the Nash Equilibrium theory guide me; I'm always trying to learn and challenge myself…
My team is my strength. And my curiosity and wish to innovate the way we do compliance guide me. The world is changing and so compliance has to change too. We're heading towards a much more technological environment and we need to innovate and study. But let's be honest, without my team and all the people that make my projects real, I would be nothing. I'd just be a guy with a great idea. I always feel lucky that I have the chance to work in an environment where people listen and make what I'm doing real.
I'm also a fan of the Nash Equilibrium by John F. Nash, Jr., who won the 1994 Nobel Prize in Economics. Basically, his philosophy is that you can't make a decision without taking into consideration the decision-making of other people. It's an interesting theory that I apply to my day-to-day activities. In the last few years, the John Nash theory has helped me a lot. That and curiosity. I'm always trying to challenge myself. I need to discover and when I'm no longer curious, I know it's probably time for me to leave the industry. But for now, there's a nice vibe in the fintech industry, especially in London. I really like what I'm doing."
"TransferGo is such a unique fintech company; there's no toxic atmosphere and everyone is really keen to help each other…
TransferGo is such a unique fintech company in terms of its culture, environment and kindness. In a lot of corporate fintechs, there's firefighting everywhere but here, you work with highly professional people at any level who are always keen to help. There's no toxic environment and it's a company that cares about its employees, which is a unique thing in fintech. 
This is the reason I accepted the role at TransferGo and I'm so happy that I did. The senior managers are great listeners. It's made me realise that I'm in a really healthy environment, where there's a perfect balance between workload and family. It's really nice."
"We're creating an environment that prevents crime and money laundering and means that customers can transact safely…
I'm proud of many things at TransferGo. Obviously, the growth has been a great result but I'm really pleased that Daumantas agreed to use technology in compliance methods. We've now fully automated many processes in compliance. And we've brought compliance to a level that's a key function in the building of the product. It's an amazing result. 
Here at TransferGo, I've found a place where compliance really matters and this was key to me accepting this position."
"I don't feel under pressure at TransferGo but I do feel a responsibility to provide a safe environment…
When I was at Oppenheimer, I was on the trading desk and that's where I really learned to manage the pressure. I had six screens in front of me, two keyboards and a headset—I was looking at the market, making compliance and listening to people. It's how I learned how to multitask and most importantly, how to prioritise what's important. 
I definitely don't feel under pressure here at TransferGo but I do feel the responsibility to keep things in compliance and provide a safe environment. I have to say working in a company that really understands the importance of compliance makes my life much easier."
"Brexit was a huge challenge but we were 100% ready…
Because of Brexit, we're now operating in a new regulated environment. It was a huge challenge but we were very proactive and ready for the transition. During the uncertain period when we didn't know if there'd be a deal or not, we implemented a contingency plan that allowed us to make business anywhere in Europe even without the necessity to passport the FCA license in the UK. 
I'd really like to thank the Bank of Lithuania as they were a great partner for us during this time."
"When things slow down, I don't like it. I'm the kind of person that has to do something once I'm excited about it…
Working in an operational environment has shown that often people get stuck thinking about the problem. And they get distracted by it without thinking of the solution. This happens a lot in fintech structures and I don't really like it. Sometimes I have to drive the decision-making; when I'm excited about something, I have to do it. And when people slow down processes, I find it frustrating. But I'm used to it now. That said, I'm so happy about the interactions I'm having with product managers at TransferGo. They're all brilliant."
"I'm a positive person that's driven by beauty, but I'm also happy to laugh at myself…
I'm not your usual Chief Compliance Officer. I like to joke with my guys about the fact that I'm Italian and that I'm passionate about food and good wine. I can laugh at myself. When I moved to the UK, people used to joke about my Italian way of looking at life but I use this to my strength. I'm proud of my origin so I always make sure people understand that I'm Italian and this is what I do. 
I'm also passionate about photography. My dad was a teacher and also a local photo reporter so I grew up with cameras and film. He took many photographs after an earthquake destroyed many villages in our region in 1980. He documented all the destruction that took place in 40 seconds and killed thousands of people. Now, there's a massive database of his photographs that's used by journalists. I did fancy a photography career myself but because it doesn't pay too much, my parents pushed me to study and I'm grateful for that because now I'm a CCO.
That said, photography is still a big part of my life; I'm very art-driven. I'm driven by the beauty of everything and I apply this logic everywhere. If there's beauty somewhere, there's happiness and positivity. That's the kind of person I am: I'm very positive and approachable. Despite the need to think logically in my work most of the time, I sometimes let my instinct and emotions guide me. I need to."
"Going home regenerates me; even though London is my home, my heart is always elsewhere…
I try to go home at least once a year. Even if I consider London my home, my heart is always elsewhere. The village I'm from is tiny but I go there and meet old friends and recognise that nothing's really changed even after all these years—apart from our ages, of course. I'm still the same person, talking in front of the village bar until 3 am and drinking and laughing about the past. 
Even though I've been around the world—from Asia to South America—I always need to go back to this small village in the middle of nowhere. (And believe me, it really is in the middle of nowhere). It really regenerates me."
______________
And if you need to send money somewhere, we promise you great rates and minimum hassle. Sign up now for easy online money transfers.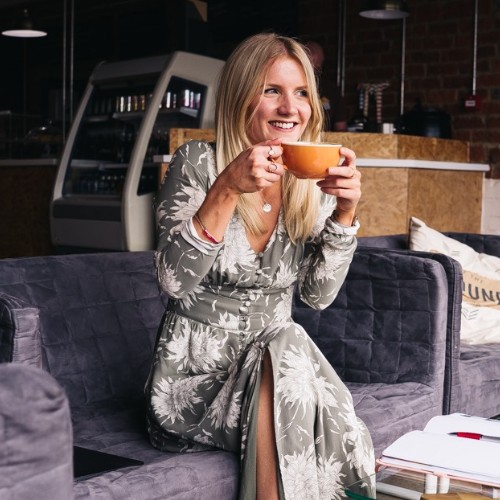 About the author
Jennifer Tate
Jennifer Tate is a freelance copywriter based in Newcastle upon Tyne with over 12 years of experience in creating copy and content for both leading brands and independent start-ups. Working across a variety of sectors from fintech to fashion and healthcare to homeware, Jennifer specialises in content creation, content management and social media strategies and has worked with TransferGo since 2017, shaping and creating the company's LinkedIn and blog post output. As well as TransferGo, Jennifer has also recently created copy and content for Charlotte Tilbury, carecircle, Tommee Tippee and Robinson Pelham.