Meet Gedmina Rumšienė, our Financial Controller based in Vilnius. After successful roles at PricewaterhouseCoopers and Barclays, Gedmina joined TransferGo's senior team almost two years ago to manage all things finance and accounting.
Here, Gedmina Rumšienė describes the background that shaped her into who she is today; as well as the values that drive her, how she achieves a work-life balance, working from home and why communication and teamwork are key.
"I was always trying to catch up with my older sister; I think that's why I'm so persistent and stubborn…
I was born in Panevėžys, the fifth biggest city in Lithuania. I grew up as one of three sisters and always looked up to my older sister, who was two years older than me. I was always trying to catch up with her. I remember when she was 7 years old and learning to read at school. My grandfather told me I was too small and didn't have to learn to read at 5 years old, but I was persistent and stubborn. I remember going under the table, listening to what he was saying to my sister and learning it myself. I think that's why I am where I am today. My parents raised me to be hardworking and I've always been very curious and open to changes.
In school, I participated in debate teams and various competitions and when I started my studies in Vilnius, I represented students at my university, where I studied BA Management Information Systems and later accounting and auditing as part of my Master's degree. I also went to Cleveland, Ohio in my second year on the Travel USA program and studied in Denmark for a semester in my third year as part of Erasmus. It was great meeting people from different countries and regions. It made me realise there is no one truth; we all have different backgrounds and values, yet we have many similarities and we can work together. This is why I like growing and understanding different cultures and meeting different people. All this experience developed me as a person; it's why I'm here and do what I do now."
"I was so happy when I was invited to join TransferGo; I really like the values here…
As the Finance Controller, my team and I are mostly responsible for the accounting for all of TransferGo's group entities, so we look after all the invoices, accounting, payments, financial statements and reporting obligations. These are our key responsibilities in the group. I have a total of five direct reports. All are from Lithuania with similar backgrounds and understanding of things. I'm very proud of my team: they're open, ambitious and very hardworking."
"I love the culture at TransferGo; everyone is free to express their opinion…
Transfergo has a very open culture and I really value how we have people from many different companies and regions working here. It's a very friendly atmosphere. There are no closed doors or rules, which you might find in bigger companies and banks. Everyone is free to express their opinion and to come to your desk to ask something. There is no barrier to have a cup of coffee with anyone—even (our CEO) Daumantas.
TransferGo's values are important to me. Building trust, owning it, being your best, collaborating—they're all very important. I really like how it's a challenging experience to work here. I feel like I'm still growing—not just from an accounting point of view, but also through relationships and managing employees. I also like how we have a very international team."
"Covid-19 has changed everything, but there have been some positives…
Covid has changed everything: how we work and what we do. But the side effects have been both good and bad. For example, people are more flexible and have more time in the morning for sports, their families and kids, which is nice. Also, we're using technology more and we're saving the planet by travelling and consuming less.
But on the other side, there are a lot of negative impacts. With people working from home, it's easy to be connected and available every single minute of the day. It's easy to reply to messages and start working late at night. It's therefore important to manage your skills and time and to not burn out. It's important to have a work/life balance.
For me, my family is what's getting me through Covid. I have two small kids aged 8 and 6, which take up my time and help me to relax and switch off. Lockdown was a challenging experience but after two weeks, we developed a new routine. It was nice to find new traditions and get to know each other better as a result of not having to travel to work and being squeezed for time. It's easier now to balance my obligations at home and at work."
"Communication and teamwork are key; I tell my team that they have to think about what they say and do…
It's important to communicate clearly and openly because different people from different regions and generations might understand things differently. While it's controversial that we're available all the time, Covid has improved communication within my team. They have to think about what they say and what they do. Another thing is the teamwork. I stress to my team not to stay alone with a problem or question. Even though most of us are at home, it's important to stay a team and solve each other's problems with the best solutions.
Personally, I like to spend one or two days a week in the office, just for a change of scenery. I think it's better than sitting in the house for the whole week and I think most of my team members feel the same. It benefits them and their psychology and how they feel."
"Working from home is all about planning and discipline; it's important in today's new norm…
Time management is key. It's important to set up a plan and stick to it. It doesn't matter if you need to leave at 6 pm and emails are still popping up. Turn off your computer and leave it aside. Everything can wait. It's important to be strict with yourself and to switch off. There's no reason to have Slack turned on your mobile during weekends and holidays. You decide.
And if there's a meeting or phone call that doesn't require a screen, why not go for a walk and listen in on your headphones? You don't need to just sit there and listen. Count your steps and exercise. Even with one-on-ones, going for a walk together will bring a lot more openness. How you manage your time requires discipline; it's not easy all the time but I think it's important in today's new norm."
"I try to encourage my team members to grow; it's important to me that they're successful…
For me, my goal is to have a successful team that accomplishes things by themselves. I know I'm successful as a manager if my team members are successful, so it's really important for me to help them and encourage them to grow. It's not just about learning new things, but it's also about developing character skills—like self-confidence, for example. It's important to show my team that they can do things and participate. And even in uncertain times, that we work as one big team and everyone stays connected."
"I almost went into architecture; deciding what to study was probably the hardest decision of my life…
When I had to choose what to study in the 12th grade, I was 50/50 between finance and architecture—two completely different things. I chose finance because I like the order; it's probably what makes me an accountant and not something else. I like planning and organising and keeping my hands in various pies and understanding how things are connected. Finance and accounting help me to do that because it relates to all areas: employees, expenses, controls and jurisdictions. For me, it's very interesting and it's an area where you can keep on top of things and see the broader picture. Some people might think accounting is boring but it's definitely not—especially at TransferGo because we're rapidly growing and changing. The product is changing, the entity is changing; it's an interesting experience and far from boring.
I still paint with oils in my spare time. It helps me to relax and switch off when things aren't great. There's a lot of uncertainty in the world but it's important not to focus on it all the time. In Lithuania, we have a saying: 'Viskas turi pradžią ir pabaigą'. It means, 'Everything has a beginning and everything has an end'."
______________
Have you explored our transfers yet? If you want to send money from home (or anywhere), sign up today for easy online money transfers.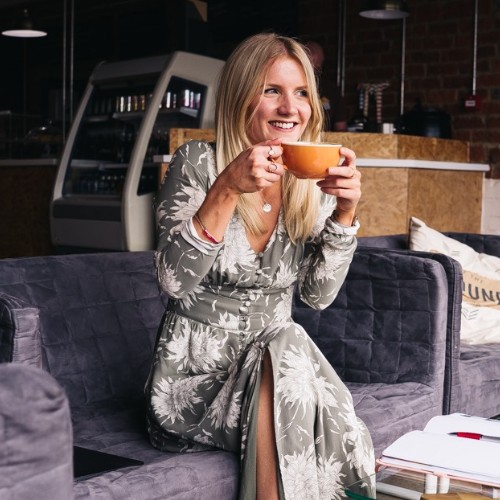 About the author
Jennifer Tate
Jennifer Tate is a freelance copywriter based in Newcastle upon Tyne with over 12 years of experience in creating copy and content for both leading brands and independent start-ups. Working across a variety of sectors from fintech to fashion and healthcare to homeware, Jennifer specialises in content creation, content management and social media strategies and has worked with TransferGo since 2017, shaping and creating the company's LinkedIn and blog post output. As well as TransferGo, Jennifer has also recently created copy and content for Charlotte Tilbury, carecircle, Tommee Tippee and Robinson Pelham.