Meet Irma Dambrauskė, our Director of People. After joining TransferGo's senior team four years ago, Irma Dambrauskė is responsible for supporting our employees, shaping our talent and culture function and managing the Talent Acquisition, People Operations and People Experience teams.
Here Irma Dambrauskė discusses the importance of treating employees as customers, the frustrations of stagnation, the British brand that inspires her lifestyle and much, much more.
Irma Dambrauskė, how did you get to where you are now?
I was born and bred in Lithuania, but after high school, I moved to the UK to study Psychology and Management at Bradford University. It was very different from the education experience I had in Lithuania. Over here (in Lithuania), things are a lot more academic but I found that it was much more about applied sciences in the UK. You really had to research real-time examples and cases. Since my degree was a joint degree, it was interesting to learn about both business and theory-based psychology as a science. It was challenging having to mix and match the knowledge but it was great.
During one summer vacation, I came back to Vilnius and did an internship in HR. The experience really got me interested in the field. For me, the idea of connecting to almost everyone in an organisation and understanding what each department does has always fascinated me. This is when I considered that this might be the field for me. So once I finished my studies in the UK, I returned to Vilnius and started a job in recruitment. It was a really good experience. I believe recruitment is the most dynamic department within the HR and People field. It was amazing to learn about different industries and types of positions while meeting other people and creating different networks within the industry.
What motivates you at work?
I love the feeling of connectedness we have on the team. We see so many different stories and personal journeys within the organisation and it's always so rewarding seeing what people do professionally. Someone who might join as a specialist might eventually become a big leader. And it's amazing to think that we helped them to prove themselves, supported them and solved their challenges. Seeing what we've done and given is great.
For me, a customer-centric mindset is important. Even though the 'customers' I'm dealing with are actually internal employees, I believe they should still be treated like our external customers. We still need to provide the best experience and that really drives me. I also really value professionalism—I think it's important to have high standards, know your field and aim for high-quality results.
What makes you tick?
I can't stand it when things aren't moving. If we're ever involved in a conversation that's not leading to action, I have to take a step back and refocus. I have to think, 'What are we doing here? What's our goal? Do we want results?' And if we do want to see results, then we need to keep taking action. Even if that means making some mistakes, it's always really important that we move on from that spot.
What do you love about working at TransferGo?
As the company grows, we can see how the company's culture is evolving but the key aspects remain the same. TransferGo people have remained very curious. They ask questions, they care and they challenge things. And I really appreciate that. I think that's what makes us TransferGo.
If we implement something, we need to make sure it delivers value. And this applies to everything—from our product to Customer Support to the People team. If things don't add value, people will notice. I think it's really important for our culture that we stay focussed on this.
How do you prepare for and deal with challenges at work?
Every day is very different. That said, it's really important for me to have a plan. And usually, this is related to what that month or quarter brings—things like onboarding, performance reviews, engagement studies etc. can all affect this. So I work with the calendar but I also dedicate time to ad-hoc things. Every day brings new challenges and things we've not planned, so we have to deal with that. It's good to have a plan but I always make sure I'm prepared for the unexpected. 
It's great working with different personalities here and I find it's something you can really learn from. You have these moments where you notice people thinking differently from you and that can be great. But what we all do have in common is a can-do attitude. If there's a challenge or something we've not done before, we all place importance on tackling the next steps and figuring out how to move forward. If we experience something new, we get excited rather than dismiss it. We move straight away into the mindset of working out how we can implement it. And I think that's really important.
What makes you proud at work?
I'm really proud of the progress and the level of trust that we've gained as a People team along the way. When employees or cultural survey results mention that they feel supported by the People team and they feel like the company really cares about them, it feels like such a great achievement. 
Everyone on our team started roughly at the same time. And there's a huge difference between how we're perceived now and how we were perceived back then.
What was your experience like working during the Covid-19 pandemic?
We continued to employ and onboard people during the pandemic, but everything was done remotely. This was a huge change for us as so many of our practices include physical contact. It was sometimes difficult working from home and I really missed having face-to-face meetings and that social interaction in the office. But I also discovered some new advantages—like waking up a little later and enjoying breakfast before starting work.
As TransferGo continues to expand, what's important for you?
Sometimes companies can really lose their identity when they expand or grow too fast so we definitely don't want that. I believe we need to aim for sustainable growth when we increase our team. But at the same time, we also need to have the resources onboard to support our culture and values. We need to continue further supporting our growth while maintaining our culture and keeping it alive.
In the post-pandemic world, returning to the office is a natural trend. And for us, the key goal is to continue supporting employees' work-life balance and provide them with the flexibility to decide where they feel the most productive working from. Even though work can be done from anywhere, collaboration strives when the team spends time together. That's why as a company we focus on providing office spaces that are pleasant to be in and allow teams to cooperate and build relationships.
And finally, Irma Dambrauskė, tell us a fun fact about yourself…
I'm a big fan of MINI cars. I really fell in love with the brand when I came over to the UK to study. I'm currently on my second MINI car. It's a black and white Paceman that they don't produce any more. It's a 4-wheel drive that's also still quite sporty. One day, I'd like to own a convertible. If I had the opportunity, I'd have all the MINIs in different colours. 
I sometimes go to the orientation rallies here in Vilnius. They have season opening and closing events so I go there and meet up with people. But I don't actually organise any MINI meets myself. For me, MINI cars aren't just about driving, they're a lifestyle. They represent weekends away and all sorts—it's a brand that really resonates with me.
______________
And if you like low fees and super-fast transfers, TransferGo is a brand that should resonate with you. Sign up now for easy online money transfers.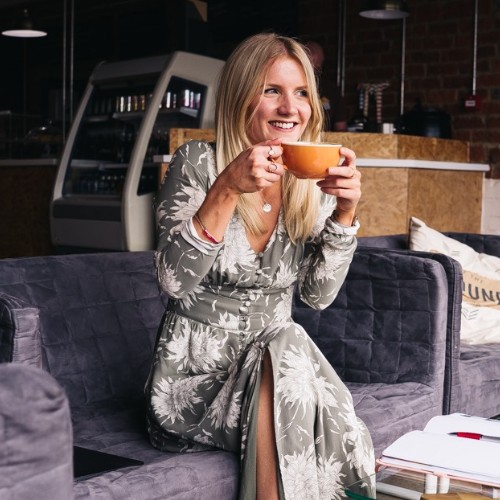 About the author
Jennifer Tate
Jennifer Tate is a freelance copywriter based in Newcastle upon Tyne with over 12 years of experience in creating copy and content for both leading brands and independent start-ups. Working across a variety of sectors from fintech to fashion and healthcare to homeware, Jennifer specialises in content creation, content management and social media strategies and has worked with TransferGo since 2017, shaping and creating the company's LinkedIn and blog post output. As well as TransferGo, Jennifer has also recently created copy and content for Charlotte Tilbury, carecircle, Tommee Tippee and Robinson Pelham.