Meet Povilas Čiuplys, our Chief Customer Officer. Based in Vilnius, Povilas has been with us since October 2019 and currently manages a 95-strong team across our offices in various locations including London, Vilnius, Kaunas, Romania and Krakow.
Here Povilas Čiuplys discusses his road to working in Customer Support; the challenges of working from home and managing a team remotely; and his belief that keeping things simple in life really is the way forward.
How did you end up in the world of Customer Support?
I was born in Alytus, a small town in Lithuania and I spent all my childhood there before moving to Kaunas to study BA Public Communications. I've always been a sociable person and played in the symphonic orchestra when I was younger. I was also an active member of Scouts, organising and leading campfires and coaching the younger kids. I fell in love with the responsibility of organising. That's why I thought a career in PR would be good for me because it's all about communication and managing information.
I enjoyed studying but to be honest, the course wasn't what I'd imagined. In the second year of my studies, I'd also started working in the Customer Support area to support myself financially. I really enjoyed it. Based on my studies, I should now be working in PR or media. But here I am more than 10 years later working in Customer Support. Not many people would say they'd always dreamed of working in Customer Support but I've really found myself here. I really enjoy helping people.
Where did you work before TransferGo?
My career in Customer Support began at Transcom, where I supported their customers and it was a big learning curve. As you can imagine, there were people in distress calling up about their power going down. That's when I developed the relevant skills to deal with conflict and people. At 21, I then took my first lead role as a Training and Quality Manager at Transcom. I managed a small team of two and dealt mostly with Lithuanian customers. And this is where I really fell in love with customer service and being a manager. I later took a role at Telia Company, managing a team scattered across different locations and being responsible for managing people who face customers every day.
After three years there, I took on the role of Employee Experience Manager; I was responsible for making sure we had happy employees in order to have happy customers. Then three years ago, I saw TransferGo was looking for a Head of Customer Experience role (or so it was called at the time, they've since changed it). And so I applied.
What are your key responsibilities?
I now work as the Chief Customer Officer. My responsibilities include making sure that the customer's voice and feedback are heard across the organisation and overseeing and ensuring that when customers need help, they get it. I manage everything from working hours to how we talk to customers and in which languages we speak to them. I enable my team to be their best by challenging them and providing the tools and environment that make people feel good.
The employees come first for me; it's important they feel they can learn and grow and this is where my focus goes. I also manage the tools and processes they use. I honestly believe that happy employees create happy customers.
What's the most important aspect of the job you do?
As a company, we're helping people to move money and support their families. Money is such a sensitive topic, so it's important that when customers need our help, we're able to speak their language and provide simple support.
Even if a customer speaks English, we recognise that they'd still prefer to speak in their native language. That's why localisation is important. We want to make sure that customers feel confident to ask us questions. We offer customer support in 8 languages, which is based on the biggest markets and nationalities using our services.
What do you love about working at TransferGo?
I connect with TransferGo on a personal level because my sister—who I'm close with—studied and lived abroad for more than 10 years. So I share a personal connection with the mission we have, which is making the world a fairer place for migrants. As the whole world goes digital, it's rewarding knowing that the customers who need our help get it. When we see public comments or personal emails, it's great. For example, one customer sent us a photo of the car that his family was able to buy and drive to visit him. And it was all because we helped him move money fast.
I also have high standards so to see our TrustPilot score of 4.8/5 is great. We're friendly, polite and professional and it's great to see the data suggesting we're doing a great job. We also have an average phone call response time of 13 seconds. It's rewarding to make customer support as viable to the business as any other department.
What are your key values?
I value simplicity; sometimes I think we see things as more complicated than they actually are. I'm a big believer in keeping things simple. I like to break complex things into smaller and more actionable parts. I also value trust, which is what I enjoy about this company. We're not interested in creating superheroes or celebrating superstars; we work as a team. It's for this reason I find Simon Sinek really inspiring. I like his idea that you enjoy the environment more when you know someone is there for you when you need them.
How did the Covid-19 pandemic affect your work?
In my role, it's unusual to have all of the team in one place; I'm used to having people scattered across different locations. So when Covid-19 struck, there weren't many changes to the daily business. Luckily, we were running Customer Support operations from home before so there was no big impact. The difference, of course, is that we had to work from home; it wasn't a choice. There was a different psychological aspect to it, so the challenge was making sure people still felt connected. And that they had a sense of belonging and we understood how they were feeling.
At the office, you can ask people how they're doing. At home, you can see the stats but you can't really gauge how people are feeling. So that was one of the most challenging parts for me but we found a way to manage. We organised huddles, we prioritised our people. And if we needed to take people offline for 30 minutes to have a conversation to see how they were doing, we did it. We're back in the office now in Vilnius, but most people are preferring to stay home. It's still a very personal choice at the moment."
Finally, what drives you at work?
I really believe in this company. For me, it's important to make sure that while it's growing, we maintain the same level of support. And that we don't lose our culture. I believe that what we have here in Customer Support at TransferGo is different from what I've seen in my other roles. The biggest challenge is keeping that and making sure that we provide the same level of personalised support and care even as we become a team of 300+.
On a personal level, I'm one of those people that doesn't have a big goal or dream. I don't think it's necessary and it can cause a lot of stress. Right now I'm focusing on being the best at what I'm doing. I can't really say what my dream is, or where I'd like to be in 10 years. When I was 18, 19, 20, everyone my age was dreaming of where they'd like to be. But for me, my dream was always just to be financially independent by 22. So I've always been quite pragmatic about things and less resistant to the idea of having to dream big. Sometimes you do things and then you fall in love as I did with Customer Support. If you have a dream, great. But if you don't, don't stress yourself. Just live your life and enjoy it."
______________
And we think you'll also enjoy our transfers. If you want to send money home, sign up today for easy online money transfers.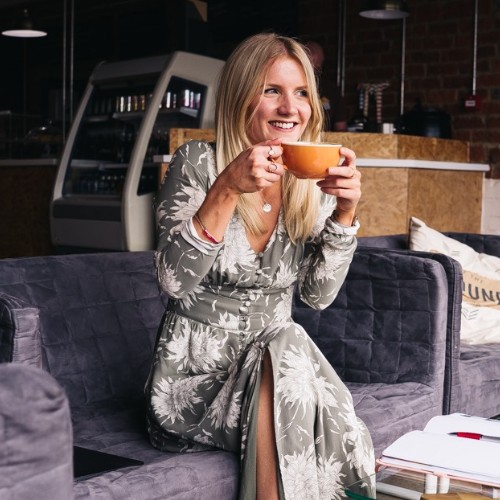 About the author
Jennifer Tate
Jennifer Tate is a freelance copywriter based in Newcastle upon Tyne with over 12 years of experience in creating copy and content for both leading brands and independent start-ups. Working across a variety of sectors from fintech to fashion and healthcare to homeware, Jennifer specialises in content creation, content management and social media strategies and has worked with TransferGo since 2017, shaping and creating the company's LinkedIn and blog post output. As well as TransferGo, Jennifer has also recently created copy and content for Charlotte Tilbury, carecircle, Tommee Tippee and Robinson Pelham.