Born and based in Istanbul, Turkey, Senem Ergüvenoğlu joined our team almost four years ago as our Growth Manager for Turkey. In January 2021, Senem Ergüvenoğlu was promoted to our Regional Growth Manager and after another promotion back in April, she is now our Director of Brand Marketing.
Here, Senem Ergüvenoğlu discusses the importance of collaboration and communication; her instant connection with TransferGo; how Turkey will always be her home; and the epic trick she played on her mother with her twin sister when they were just seven years old.
"I've spent a lot of my life living and working in Germany, but Turkey has always felt like more of a match for me…
I was born and raised in Istanbul, Turkey but I've spent a lot of my life in Germany. We moved to Munich when my twin sister and I were very little as my father was a teacher there. We lived there for about three or four years and then moved back to Istanbul when I was around four. I stayed there right up until after university, where I studied for a degree in Management Information Systems. I later worked at Turkcell, the leading telecommunications company in Turkey. 
The field I studied covered both tech and communications, but I was more interested in the business side. This is where my marketing journey started. I then moved back to Germany—this time to Hamburg—to study for a Masters degree in International Business Administration. The course was made up of two years of study and one year of work. I landed a role at T-Mobile International but I knew that I wanted to return to Turkey afterwards. I've always felt more content and comfortable in my own country. I soar better in Turkey and it feels like more of a match for me."
"I was so happy to join TransferGo; it felt like the right choice from the very beginning…
When I came back to Turkey, I joined Turkcell again, this time in mobile marketing. I did this for about six years and then I was encouraged by an HR representative to change industries and learn some new experiences. And so I did. I switched to retail and worked in luxury fashion for two years, but I always knew I wanted more of a digital experience.
A former colleague at Turkcell later introduced me to Daumantas and Marius, who were in Istanbul for business. We started talking and then when they went back to London, we finished the interview process over video calls. This was in June 2018 and I eventually joined the company in the September. I felt like I instantly connected to the people and team culture. It felt like the right choice from the very beginning."
"I love knowing that we're helping Turkish people living abroad and that I'm part of something that has a positive approach to new things…
I originally joined TransferGo as the Growth Manager for Turkey. Expansion was always a focus for the company so after some growth, we restructured parts of the business and I took on some more countries and responsibilities.
I knew straight away that TransferGo would provide a more dynamic and agile environment than I was used to. And I loved their positive approach toward new things. Of course, there are positives and negatives to each company but I've often found that decision-making can take ages in big corporations. But it's different in start-up environments. The environment here is really diverse and I love that I'm part of something where everyone brings something from different cultural backgrounds. It's also great to be able to help Turkish people living abroad. I instantly got a good sense of the people and their positive approach. We just clicked."
"Communication and collaboration are the values that drive me; it's important that everyone is on the same page…
Communication and collaboration are the values that drive me. In a start-up environment, you need to collaborate and communicate. You need to make sure that everyone's on the same page and that efforts aren't wasted. This is what drives me at work. As a person, I'm also quite impatient and so I love that you don't have to wait until everything is perfect in a start-up. You just proceed and figure it out along the way. In big corporations, there's often a lot of consent and paperwork required with everything. But in start-ups, you can move and take action easily.
It really turns me off when a company has an old mindset and struggles to adapt to new environments. It frustrates me. If you don't listen to the changing environments and needs of customers, you don't connect with them. And you can't really achieve anything with your product or service. The companies with agile working settings (like TransferGo) adapt easily to new demands and trends. They win in my eyes. Everyone brings something from their own environment and every perspective matters at TransferGo. That's what keeps me here. It's how start-ups should be. We don't wait until everything is perfect. We take action."
"I'm proud that we add value to the lives of immigrants; our products solve problems and bring solutions…
I'm proud that we add value to the lives of people. I've been an immigrant myself and I remember how hard it was to find a company that provides a money transfer solution. This is the main pain point for immigrants. The Turkish economy isn't doing that well and people are really looking for cheap services that solve problems and bring solutions. So I'm proud that we can address this problem and provide that functionality.
You don't have many choices as an immigrant but we're helping them. Our product is not only one that creates demand, but it also covers a demand. We don't push people to use us. There's a natural flow to everything."
"I want TransferGo to be the brand that everyone recommends and turns to; I'm excited to see our journey unfold…
One of my ambitions is for TransferGo to be the first answer when somebody asks 'Which money transfer company would you recommend?' in a forum or conversation. I want to see us be the brand that makes the lives of people who want to send and receive money easier."
"My twin sister and I played a huge trick on my mother when we were seven years old; we didn't confess until years later…
My twin sister and I tricked my mother when we were really little. And the story's quite funny. My mother, a teacher, was desperate for us to become musicians and so she wanted us to go to this specialist music school from seven years old right up until university. The school was in a historic building and it felt scary and creepy. My sister and I couldn't imagine spending our whole lives there; it didn't feel like a nice place to go as a child. But my mum was really keen on us going. At the entrance exam, my sister and I, therefore, decided to fail the exam on purpose by playing all the wrong notes.
The next week, we went to see the winner's list which was hung on the classroom door. My mum was so excited but we were praying that we didn't make the list. And thankfully, we didn't. My mum felt quite sad about it, but we were ecstatic! We didn't tell my mother the full story until we were grown up. It was her vision for us to be musicians. Thankfully, she took it quite well and found the story funny years later. She was laughing about it all.
So, life could have been very different. I could have had a totally different career, but here I am, working in marketing. And I'm so glad that I am."
______________
And if you're looking to send money, you'll be so glad you chose TransferGo. Sign up now for easy online money transfers. You can also view more Meet the Team interviews here.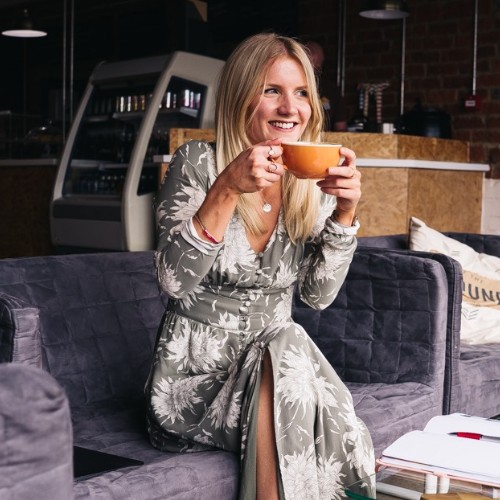 About the author
Jennifer Tate
Jennifer Tate is a freelance copywriter based in Newcastle upon Tyne with over 12 years of experience in creating copy and content for both leading brands and independent start-ups. Working across a variety of sectors from fintech to fashion and healthcare to homeware, Jennifer specialises in content creation, content management and social media strategies and has worked with TransferGo since 2017, shaping and creating the company's LinkedIn and blog post output. As well as TransferGo, Jennifer has also recently created copy and content for Charlotte Tilbury, carecircle, Tommee Tippee and Robinson Pelham.