Meet Anna Harmash, our Head of Customer Support. Born in the Luhansk region of Ukraine (which is currently occupied), Anna moved to Vilnius, Lithuania in 2017 and has been a member of Team TransferGo for over five years.
Reporting directly to Povilas Čiuplys, Anna is in charge of the cluster within the Customer Support department that deals with customers sending money to Ukraine and CIS countries.
Here, Anna Harmash discusses her favourite things about working at TransferGo; her proudest achievements; the tough and challenging year that's been 2022; her favourite things about Vilnius and much, much more.
What's your favourite thing about working at TransferGo?
"For me, the best thing about working here is the people. I have a fantastic team. It's the best I could ever have and everyone makes it easy to work and communicate. I love working with people who share a passion for great service and creating better processes that make our clients' lives easier. I love to be helpful and CS is the best department where you can do all of these things!"
What's your proudest achievement to date?
"It's not a personal achievement but I'm really proud of my team and the environment we've created here. Everyone is so proactive and positive when they come to work. People enjoy helping each other to develop. In my UA and CIS countries cluster, we've managed to create and maintain this friendly vibe and make Customer Support a better place to work. When I get great feedback about the team and how experienced people help newcomers without team leaders getting involved, it really makes me proud. People usually see Customer Support as a department without a stable culture. But we've proved the opposite."
What are the biggest challenges you face in your role?
"In my role, I come across enormous amounts of information at once. As a result, communicating with a lot of incoming information can be challenging. But this is a common issue in the modern world, I guess. Usually, I take one thing that can give us the best improvement and then direct my team of 30 people towards that goal. Fortunately, we've figured out how to do our best and achieve great results."
You've helped many customers who have been directly or indirectly affected by the war in Ukraine. Can you tell us a little bit about this experience?
"This year has been tough but it's made us all 100% stronger. When you're talking to customers with heartbreaking stories, it can be extremely difficult. A lot of the time, we're talking to people who need to make urgent transfers—sometimes for medical reasons or to support their relatives in need. Often, they also have very limited internet signals because of issues with their mobile and internet connections.
When this horrible war started in February, we'd fortunately planned team training with a professional psychologist. The day was meant to be spent discussing how to handle tough conversations with customers but instead, we dedicated the time to helping our individual team members and giving them time and space to share their thoughts and emotions. We were in tears at the beginning of that training as news about our home cities being bombed was breaking online. After all, over half of our team is from Ukraine so a lot of CS agents are directly affected by the horrific war. Some of their family members were under Russian occupation.
In the training, we covered crucial topics like being worried about your family's safety while working in another country. It's important to be able to talk to people when you're at work. That way, you can also share your learned confidence with the customer. It can be tough being friendly, positive and professional when you're in an emotional state but the psychologist helped us a lot that day with her advice. From then on, the team supported each other more and more and everyone was mindful of each other's emotions. The experience helped us to understand both our customers and ourselves a lot better."
What are you currently working on that you're excited about?
"Right now, we're trying to make our communication with the customers even more friendly and human-centric. We are running calibration sessions within the team, where we share our best practices, learn from each other and constantly work on adapting our communication to the client's needs. The team has achieved incredible results extremely quickly by organising a workflow management approach to our daily work."
Do you have any big ambitions outside of what you're currently doing?
"I would like to see TransferGo being mentioned as one of the key players in the industry when it comes to Customer Support. It'd be great if everyone could say what a pleasure it was to deal with our Customer Support team when sending a transfer—or even that it was the best Customer Support experience they've ever had. I would see that as a huge achievement."
What are the values that drive you?
"I really value ownership and communication. It makes life easier for us and our customers. I also think the human approach is really important when it comes to working with the team and communicating with customers. It's crucial we allow ourselves to make mistakes because we're all human. I like that TransferGo accepts this; there's an emphasis on learning from your mistakes and becoming even stronger as a result."
What have you learnt while working at TransferGo?
"As well as learning from your mistakes, I've learned that it's important to give and learn from honest feedback. This way, you can do your best next time. I think it's vital that we're not afraid of feedback and that we're mindful of others."
How do you achieve a healthy work/life balance?
"The work-life balance is something I struggle with sometimes. What helps is setting myself the 8-hour working day as the maximum amount of time that I have. This way, I'm more mindful of the time I have and it helps me to schedule my responsibilities and to-do lists better. When you know you can't work overtime, it's easier to value the time that you have and achieve your tasks within that time. As I have a young family, it's really important for me to do this and allow myself some time to rest. This way, I also bring more value to my work life."
How do you unwind after a long day?
"After work, I try to switch my focus to different things. I like to watch YouTube videos on different countries in historic periods to broaden my mind and understand different societies and lifestyles. Switching your focus off from modern life and onto periods of time when they didn't have much really helps to refresh my mind when the working day is done."
What does your typical weekend look like?
"I spend most of the weekend with my children, who are 12 and 8. They've visited the office a couple of times and they're very curious about the work I do. They were really impressed with how the office looked and all the computers we have. When I work from home, they also ask lots of questions about what I'm doing and how we help society on a daily basis. My son's teacher once invited the parents to speak in class about their jobs and so I presented my role to the kids. We played a small game of exchanging money and they loved it! They were so impressed that there were so many currencies and that you could make a business from them all."
And now for the… quick-fire round!
Favourite restaurant in Vilnius? I've been a vegetarian for almost 12 years and so my favourite restaurant has to be Radharane.
Favourite area in Vilnius? I really love Green Lakes. I love spending time outside with my family here. It's easy to go there in the evening too.
Favourite city? I feel really comfortable in Vilnius. It's very green and there are lots to do outside in nature. It's also not very busy when it comes to traffic—although the locals would disagree. But my heart will always be in Kyiv. For me, it's the best city in the world.
Favourite food? As a veggie, I'm obsessed with cheese.
Favourite music? I really love Ukrainian music. At the moment, there's a strong wave of Ukrainian artists who are mixing different samples and creating sounds about the war. Examples of artists include Tember Blanche, Kazka, The Hardkiss, Hyphen Dash, Alyona Alyona, Go_A, Jerry Heil and Sera Sheer.
Favourite movie? I really love French movies.
Best advice you were given? It's probably something to do with being confident and believing in your abilities to solve things that might look impossible. Sometimes all you need to do is make that first step.
______________
And if you want to send money from home, we're here to help. Our transfers are cheap, fast and fuss-free. Sign up today for easy online money transfers.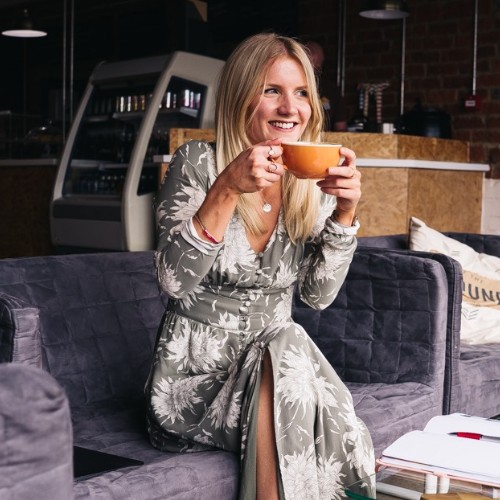 About the author
Jennifer Tate
Jennifer Tate is a freelance copywriter based in Newcastle upon Tyne with over 12 years of experience in creating copy and content for both leading brands and independent start-ups. Working across a variety of sectors from fintech to fashion and healthcare to homeware, Jennifer specialises in content creation, content management and social media strategies and has worked with TransferGo since 2017, shaping and creating the company's LinkedIn and blog post output. As well as TransferGo, Jennifer has also recently created copy and content for Charlotte Tilbury, carecircle, Tommee Tippee and Robinson Pelham.