Meet Diego Vazquez, our Director of Performance Marketing. Born and bred in Spain, Diego joined Team TransferGo two years ago and is now responsible for managing all of our channels that drive instant outcomes for our business—from paid social to paid search advertising, and more.
Here, Diego Vazquez discusses his colourful career, the importance of innovation, the things that have helped him through lockdown, why he plans to stay in fintech and the anonymous online dating app he started with his brothers 10 years ago.
"Before I joined TransferGo, I had some great opportunities managing global campaigns for the likes of Gucci and Samsung…
I'm originally from Bilbao, which is located in the North of Spain, about an hour away from France. I studied Business at university there and then I completed my Masters in Madrid and London. While in Madrid, I interned at a bank doing research—it was very different to what I'm doing now. After that, I moved across to the marketing side and realised that was what I loved to do most. 
After a couple of years working on my own start-up with my brothers (more on that later), I went on to work for different media agencies. I had some great opportunities running campaigns for huge clients like Gucci, Samsung and American Express at a global level. It was a great experience. I worked with some really intelligent people and learned a lot in a short period of time. After that, I worked for another start-up, but then I craved a more fast-paced environment where I was given more involvement. That's when I joined TransferGo. The company resonated with me because it solved the pain point of sending money home. Their product is something I use myself."
"It's important not to take things for granted. We need to keep challenging ourselves and our approaches…
For me, it's very important to be innovative and try new things. It's important not to take things for granted. We're in a very competitive business and we need to keep challenging ourselves and our approaches. It's important to move fast and keep learning. Our products are successful but at the same time, it's important that we gather information and understand why things don't work. 
Innovation and testing are two of the most important aspects of my work. It's exciting here because you can really gauge whether things work or don't work pretty much straight away. It's really important to challenge what's working and to be selective about the things you want to test. I love the fact that we're speaking to people from other countries who are just like us and it's great to see our campaign outcomes being successful."
"From day one at TransferGo, it was obvious that everybody was interested in seeing the company become successful…
I love the fact that at TransferGo, we've all been collaborating from the very beginning. In other companies I've worked at, people might have felt a little detached from each other but not here. From day one, it was obvious that everyone was interested in the company being successful. Everybody understands that we're a family and we all have the same target goal, which is great to see. We all come from many different cultures and I love that. The fact that we share a common goal is super important. 
I also really like how we move quickly—much faster than at companies I've worked at in the past, where it takes a while or weeks to make decisions. But here, you can talk to different departments when you need to and we can get results in a couple of days. End to end campaigns can be launched in just 3-4 days, but that's just not possible in other companies. In that sense, we're way more flexible and dynamic than our competitors and I really like that. Everyone wants to have that fast-paced experience."

"A career highlight for me was travelling to Brazil for the 2016 Olympics. We ended up winning the Media Campaign of the Year award…
When I worked for the media agency in Samsung, we travelled to Rio de Janeiro for the Olympics as Samsung was a sponsor. It was really cool. They put us in this room with a creative agency and we had 35 or so TVs on. We were checking social media and live events, looking for ideas that we could promote in real-time.
We followed athletes with inspirational stories—people who'd had difficult pasts but overcame those situations and won medals—and tracked who was winning and ran campaigns. And then we ended up winning the Media Campaign of the Year. It was a great learning experience and I'll remember it for many years. 
Meanwhile, at TransferGo, I'm really proud of our data-led approach. We're checking metrics every day and we've changed our approach to be more data-led. As a result, we're getting more visibility and we understand what's going on at most data points, which is super important. This approach has enabled us to be more cost efficient, too, which is fantastic."
"I've had ups and downs over the past year, but running, walking the dog and reading fiction have really helped…
Over the past year or so, I've had ups and downs like everyone else. Working from home makes it more difficult to manage the work/life balance. It's easy to just reply to emails straight away, but I've now put boundaries in place. It's important because it makes you more productive when you are working. 
I've had to change my routines to protect my mental health. I make sure I do sports and get out of the house every day—whether it's a quiet walk with the dog or a pint with friends. Running and reading fiction have helped, too, as they keep my mind as healthy as possible. 
Having a puppy has helped. I got a cockapoo in January 2020 before everything happened. It was almost like a premonition. We had a dog-friendly office so it would have worked really well anyway. I also try to move rooms so that I'm not sitting in the same chair all day and get a change of scenery. To help with my back pain, a massage therapist recommended that for every 30 minutes of sitting, I walk for 30 seconds after. So I try to do that.
I try to see the pros in the situation—I have more time to do other things and I don't have to do the horrible London commute. Pre Covid, I was spending two hours a day travelling but now I have that time to myself. However, there are cons, too. I liked interacting with my colleagues and it's difficult not having that in front of you. I'm used to it now though. I might find it difficult going back to how it was."
"Fintech requires creativity and innovation. I can definitely see myself staying in this industry…
Looking forward, I'm very excited about our new wallet feature and the opportunities it will open for us. I'm also really looking forward to running some of the campaigns we've been working on for some of the corridors where we're trying to be more competitive. It's exciting to run so many campaigns for different markets. You learn a lot about those cultures and it's great. 
I definitely see myself staying in the fintech environment. That's where the competition is happening and where you need to be more creative and innovative with your solutions. And I really like that. TransferGo is a great company. I can definitely see myself staying here and managing campaigns to help them grow and expand into many more markets."
"I started a discreet online dating app with my brothers 10 years ago. We had 30,000 users…
People might be surprised to hear that I created an online dating app for secret lovers. I started the company in 2011 with my brothers. At the time, there was a lot of bad news in Spain—people were losing their jobs, etc—and there was a bit of a stigma about online dating apps. There weren't many around—Tinder wasn't even popular at that point. And so we decided to create a discreet dating app called Discreetic.
My brothers were more focused on the finance side, whereas I took care of marketing. That's how I learned about paid search ads and Facebook ads. I taught myself by reading blogs and articles on the internet. The app offered anonymity—basically you went through their Facebook profiles and if they liked you back, you'd get a match. But otherwise, you wouldn't know. We got up to 30,000 users. We had a lot of calls from TV channels wanting to talk about our company. The business sadly folded after a couple of years, but it was a lot of fun while it lasted."
______________
Something else that feels fun? Sending money with TransferGo. Sign up now for easy online money transfers.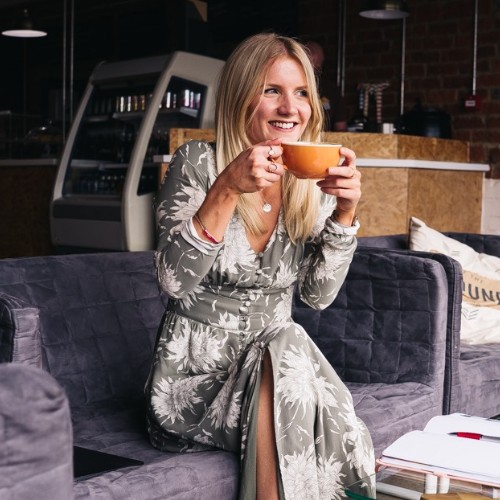 About the author
Jennifer Tate
Jennifer Tate is a freelance copywriter based in Newcastle upon Tyne with over 12 years of experience in creating copy and content for both leading brands and independent start-ups. Working across a variety of sectors from fintech to fashion and healthcare to homeware, Jennifer specialises in content creation, content management and social media strategies and has worked with TransferGo since 2017, shaping and creating the company's LinkedIn and blog post output. As well as TransferGo, Jennifer has also recently created copy and content for Charlotte Tilbury, carecircle, Tommee Tippee and Robinson Pelham.