Meet Nadim Dimechkie, our Director of Copy. Born in London to Lebanese/Palestinian/English parents who were fleeing the Lebanese Civil War, Nadim was raised in the UK and attended the University of St Andrews, where he studied International Relations and Modern History.
In 2019, Nadim Dimechkie joined Team TransferGo as a contract senior copywriter and became a permanent director earlier this year. Here, Nadim discusses his 23-year career in branding, advertising and teaching; our company culture; the value of copywriting and his mission to make life easier for our migrant customers. 
"I loved watching ads as a kid and have always loved writing—but it took me a while to realise I could put the two together…
My motivations for moving into copywriting have changed over the years. I loved writing and watching adverts as a kid. After I left university, I applied to become a teacher but then the creative director at Leo Burnett in Beirut told me that I was born to work in advertising. It was a pretty good advertising schtick but then, that was his job. The love of creating and writing lasted a good 10 years before I eventually said, "Hang on a minute, this teaching urge is important to me. I need to give it a go." And so I did.
I taught for ten years and then rejoined the world of copywriting. By that point, my motives were entirely different. I was far more interested in how I could support people in doing things they were afraid of. I like sharing ideas in a way that makes people want to adopt them."

"I like putting feelings into words and finding elegant but simple solutions to complex problems…
Finding simple solutions to complex problems drives me on a micro level—I find cryptic crosswords deeply satisfying. One of my favourite things to do is sit with the CEO of a company and put into words what they've always felt about their brand, but not quite managed to express.
I also like working on and aligning with a company's overall mission. TransferGo was built to support migrants and so the mission here resonated with me—not just because of my parents, but because migration is a solution to global inequality. We need to help remove barriers for hard-working people so they can do what many governments fail to do: support their families and change their lives for the better. Every time we improve or simplify things for them, it feels good."
"The freedom you get at TransferGo is exactly what you want from a job. There's zero ego here…
At TransferGo, you get to own what you do. You're entrusted with a space and a mission that can be of your own making. As long as it chimes with the company's purpose and it's convincing, you can persuade people of its value to the customers and company. That sort of freedom—within the constraints that refine and focus your efforts—is exactly what you want from a job.
The people at TransferGo are also supportive. They're kind, friendly and intelligent too. So it's an excellent environment in which to try, fail and try better. It's that freedom to fail that empowers people to be brave, innovate, and do their best work."
"I'm really proud of the relationships I've built with different people and departments at TransferGo…
There are a few copy-related highlights of my time here at TransferGo, but I'm most proud of the processes I've put in place to simplify copy and translations for other people, in other languages. 
I'm also proud of the relationships I've built. I love having conversations with an eager-to-learn Customer Support team about what kind of language to use with a grumpy customer. I love brainstorming with Product Designers and I like getting the Marketing team together and eliciting their brilliant ideas.
Working with others to find the right thing together, rather than imposing solutions or implementing other people's (both of which are fine, but don't make the highlights reel), can feel more satisfying than the work itself."
"My greatest reward came as a teacher. It was invigorating doing something that made such a tangible difference…
I enjoyed advertising in my 20s, but my greatest reward came as a teacher. Those years of working as an English teacher and teacher trainer in Hackney's high-achieving Mossbourne academies, which change the life chances of thousands of children from all sorts of backgrounds, were invigorating. It was great to see the difference in the faces you welcomed into your classroom each day—not to mention the difference they made to you. 
That teaching experience gave me lots of transferable skills that have made me a much better manager and colleague. It taught me how to get good work out of others; how to listen, excite and organise; and how to produce a large variety of quality work in a short space of time. I highly recommend it!"
"Covid-19 taught us the value of remote working. We now have an excellent balance…
If anything, the pandemic resolved some issues for us. We already suspected that working from home was something we should lean into more. We knew that if we really trusted our people and measured output properly then insisting on clocking into a specific location was just lazy management. We had started encouraging remote working but there was still some legacy doubt in all of us. Now, that doubt is gone. We have an excellent balance. 
Of course, it's still important to come in—to see each other and bond—but there's a purpose to coming in and a purpose to staying at home. And neither of those purposes is 'because my boss wants me to'."
"We want to keep simplifying things to improve the lives of migrants around the world…
Our mission at TransferGo is to keep simplifying financial services in ways that really support their efforts to improve life for their families and themselves. We need to keep making things easier for them. I can't really see past that at the moment. 
How and what we communicate—to our customers, to each other—plays an important role in that process of simplification. Words can be barriers, or they can be bridges. They can exert power or transfer it. Copy isn't rocket science, but it can make life a lot easier for people."
"Something about me that might surprise people? My wife can help with this one…
I'm unable to think and do anything else at the same time. I can only cry on planes and I get a kick out of awkward silences. My children also scream whenever I shave my face. 
It took me a while to think of these things but my wife, Francesca came to my help. She, on the other hand, CAN multi-task, can cry anywhere and hates awkward silences. She also never has to shave her face and thought of this whole list in about four seconds. While also doing something else."
______________
And you can multi-task while sending money! Our transfers are that easy! Sign up now for simple, online money transfers.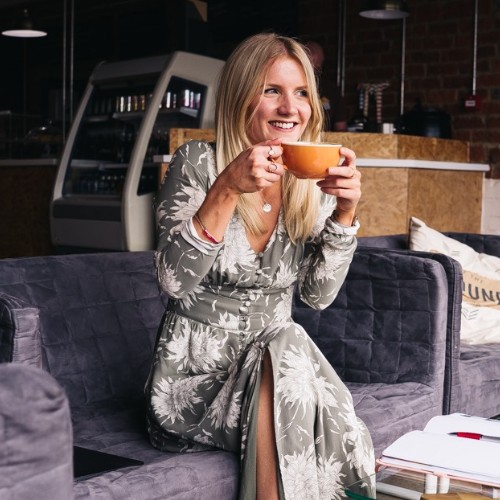 About the author
Jennifer Tate
Jennifer Tate is a freelance copywriter based in Newcastle upon Tyne with over 12 years of experience in creating copy and content for both leading brands and independent start-ups. Working across a variety of sectors from fintech to fashion and healthcare to homeware, Jennifer specialises in content creation, content management and social media strategies and has worked with TransferGo since 2017, shaping and creating the company's LinkedIn and blog post output. As well as TransferGo, Jennifer has also recently created copy and content for Charlotte Tilbury, carecircle, Tommee Tippee and Robinson Pelham.