Meet Simon Moran, our Chief Commercial Officer. An integral part of Team TransferGo since 2019, Simon is responsible for managing the strategic partnerships and relationships that form our network and make our products and features possible. He also works closely with the founders and the Leadership Team on corporate strategy and acquiring new licenses which allow us to expand and launch in new markets.
Here, Simon Moran discusses his proudest achievements, professional ambitions, how he unwinds after a long day, his favourite London hotspots and much, much more…
What's your favourite thing about working at TransferGo?
I love that the company aligns with my values. When I first joined, one of the main decision points for me was having that shared vision with the founding team. The mission to help migrants access vital financial services is really important to me. It's something I felt wasn't always present in previous companies. I also love the passion of the people within the business. The fact that they always go above and beyond to deliver for our users is constantly impressive.
What's your proudest achievement to date?
In three and a half years at TransferGo, there are so many projects that come to mind. But if I had to pick one thing, it would be dramatically increasing the size of our network from 40 markets to 170+ and enabling a truly global payment network for our users.
What are the biggest challenges you face in your role?
The biggest challenge is actually saying no to enough things so that I can focus on what's most important and impactful. In a growing business like TransferGo, we all have a massive amount to get done. Staying focussed necessitates saying no to things that might be really interesting but potentially less impactful or aligned with our objectives. 
What are you currently working on that you're excited about?
I've just returned from SIBOS 2022 in Amsterdam which was a fantastic industry event. In the space of four days, we met more than 50 current and potential new partners. I'm super excited about prioritising and executing on the unprecedented list of opportunities we have returned with. 
The biggest thing we're working towards as a company right now is making the vision of becoming the world's most trusted migrant bank a reality. I think the next step on that journey is to rapidly broaden our range of services for our users. Filtering out the noise from the signal and identifying the right activities, projects and partners that are going to help us get there in the shortest time is number one on my list. 
Do you have any big ambitions outside of what you're currently doing?
For me professionally at TransferGo, there is no bigger ambition than becoming the world's most trusted migrant bank. It's a really ambitious goal for us. And if we can navigate in that direction over the next 5 years, it'll be the most impactful thing we can do—not only for the business but for our users and the communities we serve. We have more than 5 million users on the platform already but there are so many more migrants we can help gain access to vital financial services.
What have you learnt while working at TransferGo?
I've learnt a lot about what's possible with a huge amount of commitment and passion from a relatively lean group of people. If you keep focussed on where you want to go and the users you want to enable and help, then anything is possible. That's my number one learning. Time and time again, we've achieved the things we've set our minds on because of the passionate people inside the business and their focus, hard work, perseverance and will to get things done.
How do you achieve a healthy work/life balance?
Over my career, I've realised that work/life balance is different for everybody. For me, with a young family, it can be tricky. Everyone needs to understand what works for them and have the discipline to stick to it. 
Personally, I'm a night owl so I tend to take time out when my daughter comes home from school to enjoy some family time. I do dinner and bedtime for a couple of hours and then I often return to work after she's gone to sleep. I'm also a list person, so I am constantly working down a prioritised to-do list to stay on track. I love the tactile nature of writing something down on paper with an actual old-school propelling pencil. One of the last things I do before signing off for the evening is to make a list of key things that I need to get done the next day. 
Does working from home work for you? 
Yes and no. Being able to manage the volume of work and still spend time with my family is great. But when I think about how I've habitually gotten things done over my 20+ year career, being remote is not always as effective. Over the last three years, we've all had a crash course on how to use video calls. But I'm still a believer in getting into the office at least once a week and spending time in the same space as people. The serendipity that becomes possible when you're passing people at the coffee machine just doesn't exist when you're at home. 
How do you unwind after a long day?
I read bedtime stories to my daughter. Because of the pandemic, I'm now the bedtime story guy. In the past in previous roles, I probably wouldn't have seen her much during the week at all. So lockdown has definitely had some positive side effects personally! I also like watching TV: sports, cookery, quiz, comedy and sci-fi shows.
What does your typical weekend look like?
My daughter is at that age where she has a lot of extra-curricular activities. On Saturdays, I'll be up early to make her breakfast. I then take her to stage school followed by a nice lunch. We usually also take a walk or bike ride around Bushy Park, which is close to where we live. 
On Sundays, we usually have some kind of sports event in the morning. And then hopefully we'll make a nice roast and more family games and maybe a movie. Typically, the weekend is about spending time with my family. I also like to go and watch Tottenham play football whenever I can.
And now for the… quick-fire round!
Favourite place?
I love Wine Country in Northern California. Sonoma is beautiful. Not only does it have great wine, but it also has fantastic weather and is a special place for my wife and me.
Favourite meal?
For a starter, it'd be a classic prawn cocktail. And then for my main meal, I'd have a big steak with red wine. I'm not much of a dessert guy so I'd probably go for a cheeseboard to finish. 
Favourite London restaurant?
Hawksmoor for steak and Cafe Murano for unbelievable Italian food.
Favourite London neighbourhood?
Richmond upon Thames.
London's best-kept secret?
The Kyoto Garden in Holland Park—I've always wanted to go to Japan but this is as close as I've got so far!
Favourite movie?
I'm a huge Star Wars fan and controversially, I love Rogue One, which is one of the more recent films. It's a beautiful love story with added lightsabres that I rewatch regularly.
Favourite artist?
I have an eclectic musical taste, but I've been listening to a lot of The Stranglers recently. 
Favourite book?
A Confederacy of Dunces by John Kennedy Toole. It's a hilarious book and I'd really recommend it. The story behind it is actually quite sad—Toole wrote it in the 1960s but it was never published. When he died a few years later, his mother found the manuscript and the book was finally published in 1980. A year later, Toole posthumously won the Pulitzer Prize for Fiction for the book. 
Best advice you were given?
The piece of advice that instantly comes to mind is, what's the worst that can happen? As a child, I was very bookish. I really wanted to do well in exams but I would always get worked up beforehand. One night before a French exam, I was in a complete state. My stepfather was trying to calm me down and so he said, 'What's the worst that can happen?' It's a very simple yet effective piece of advice that has become part of my approach to life. Just go for it, do your best and don't worry. You've got this!
______________
And if you want to send money from home, we're here to help. Our transfers are cheap, fast and fuss-free. Sign up today for easy online money transfers.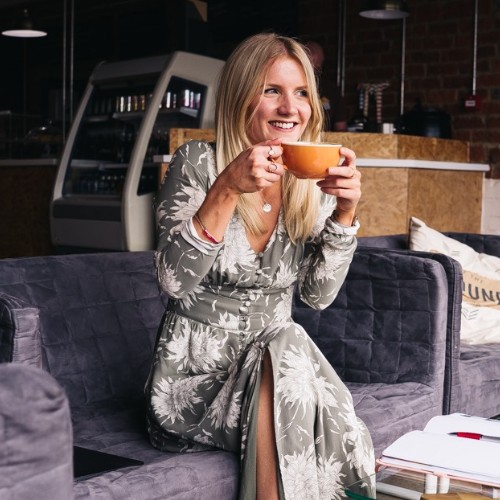 About the author
Jennifer Tate
Jennifer Tate is a freelance copywriter based in Newcastle upon Tyne with over 12 years of experience in creating copy and content for both leading brands and independent start-ups. Working across a variety of sectors from fintech to fashion and healthcare to homeware, Jennifer specialises in content creation, content management and social media strategies and has worked with TransferGo since 2017, shaping and creating the company's LinkedIn and blog post output. As well as TransferGo, Jennifer has also recently created copy and content for Charlotte Tilbury, carecircle, Tommee Tippee and Robinson Pelham.