Wanting to make the most out of your referral rewards? You've come to the right place. 
Firstly, let's start with the basics. To earn rewards, you need to share your unique RAF code with others. These people then need to sign up and make a £100 transfer with TransferGo. You'll then get £30 as a reward. The more people who sign up using your referral code, the more rewards you'll get. 
If you want to make the most out of TransferGo's referral rewards (and why wouldn't you?), read on. 
1. Rate us on the app store
The more exposure your RAF codes get, the more chances you have to earn money. A great way to get eyes on your unique RAF code is to write about your TransferGo experience on the app store. 
In your review, include your RAF code for other people to sign up with. Don't forget to rate our service too. And remember: genuine reviews garner engagement. The more people who engage with your post, the better your chances are of people signing up with your code. 
2. Embrace the power of social media
Social media is not only a great way to stay connected with friends but it's also a brilliant way to share your RAF code with others. This is especially true if some of your friends and followers are looking for an app to easily send money. 
One way to utilise social media is to put your RAF link into your bio on Instagram, Facebook and Tiktok. Then, whenever someone visits your profile, they'll be able to see and click on your unique link. On Instagram, you can also publish a post with your RAF code and 'pin' it to make sure it gets the highest visibility. You can also pin posts on Twitter.
3. Make use of our 'share' button
The 'share' button underneath your referral code in our app is your new best friend. It allows you to share your unique RAF code via every app from Instagram and Facebook to Whatsapp groups and even Slack. 
What's also great about clicking 'share' is that you'll instantly see the friends and family you interact with most. The likelihood is you'll probably feel more comfortable sharing your code with these people first. Once you've shared your code a few times, you'll then feel more confident to share it with others. 
4. Print a poster
Another (and more traditional) way of getting more referrals is to print out a poster with your unique RAF code. Put it up at your workplace or even on a noticeboard in your shared accommodation. 
If you work or live with people who need to transfer money, this is a great way to advertise the rewards of using TransferGo. And if you need some graphic content to share and print out, submit a request here and we'll be back in touch soon.
5. Seek out migrant and money transfer groups
The trick to being a successful referrer is to share your unique RAF code with the people who are most likely to send money: migrants. Have a look online for different posts, forums and groups about money transfers. Once you've found some that are suitable, make a comment to recommend TransferGo as a reliable service and share your unique RAF code and link. 
Another great place to do this is in relevant Facebook groups. Look for groups containing key search teams like 'immigrants', 'living abroad', 'foreigners in X country' etc. This way, you can be sure you're connecting with the people most likely to send a transfer.
And if all else fails… you can always get a tattoo with your unique referral code. (Disclaimer: this is a joke. Please don't do that). 
______________
Now that you know how to make the most out of TransferGo's referral rewards, are you ready to become a referrer? Sign up to TransferGo today to send money fast and join our referral program.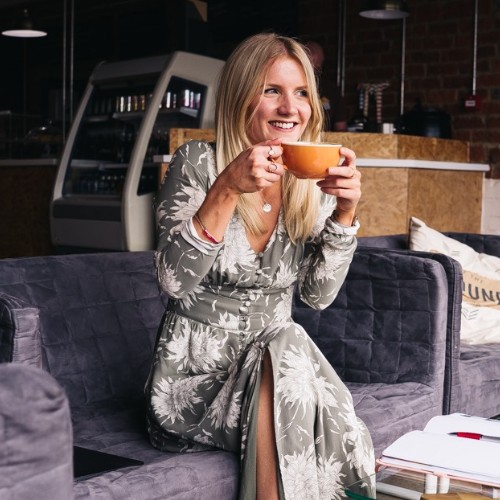 About the author
Jennifer Tate
Jennifer Tate is a freelance copywriter based in Newcastle upon Tyne with over 12 years of experience in creating copy and content for both leading brands and independent start-ups. Working across a variety of sectors from fintech to fashion and healthcare to homeware, Jennifer specialises in content creation, content management and social media strategies and has worked with TransferGo since 2017, shaping and creating the company's LinkedIn and blog post output. As well as TransferGo, Jennifer has also recently created copy and content for Charlotte Tilbury, carecircle, Tommee Tippee and Robinson Pelham.