Meet Justinas Lasevičius, our Chief Financial Officer and one of our original co-founders. Born in a small town in the south of Lithuania, Justinas moved to the UK in 2008 to continue his studies in Finance and Economics at Lancaster University. There, he met fellow co-founders Daumantas, Edvinas and Arnas; and later, the four of them would go on to launch TransferGo.
Here, Justinas Lasevičius discusses meeting his fellow co-founders at various parties, how his move to the UK shaped him personally, the challenges of Brexit, his appreciation for our Customer Support team and why it's too early to say whether TransferGo is a success. 
"My first job in Customer Support was one of the best memories of my early career…
After finishing school in my hometown, I moved to Vilnius to study Economics at Vilnius University. During my first year, I got my first job in Customer Support and it was one of the best memories of my early career. All of my colleagues were students too so there was a good culture and environment. I spent almost two years there and then I moved to the UK to finish my studies at Lancaster University. It was my first experience living abroad with different people and cultures and from a personal development point of view, it was transformational. Moving to a different place in Lithuania isn't the same as you still have friends and relatives around—even your parents are probably just a couple of hours away. But moving to the UK was a completely different experience."
"Making international transactions was an ugly and difficult experience. We connected the dots and ended up solving the problem for ourselves…
I met Daumantas on the first day I arrived at university. Whilst studying, we took on a number of projects and entrepreneurial initiatives. We'd been producing some eco-friendly merchandise on campus at university and as part of that business, we had to make many international transactions. Back then, you had to actually go into a branch and fill in forms as internet banking in the UK only allowed you to do local transactions. The experience was ugly and difficult. So we connected both the individual experience of being foreign international students with the business initiatives that we had. We ended up solving the problem for ourselves. And then we saw that friends and other businesses had the same issues. So after graduation, we decided that it could be its own business project and we came up with the idea of TransferGo."
"Daumantas, Edvinas, Arnas and I met at different parties; we eventually all came together to work full-time on bringing the business to life…
Meeting Daumantas, Edvinas and Arnas happened at different times but there was one thread in common: parties. I think I met Daumantas at an impromptu party on the first day I arrived and then we developed our friendship over the next couple of months. Meanwhile, Edvinas was studying in London but came up to visit his friend who was studying at Lancaster University to celebrate Easter. We met for the first time then at a party. 
Later, Edvinas and I went to Middlesbrough to do a business incubator called DigitalCity Fellowship. It was a great programme that lasted six months and provided us with a classroom to work in, as well as great entrepreneurship mentoring and encouragement. It was a good opportunity to get some support with getting TransferGo off the ground. After we finished in May, we moved back to Lithuania to look for a superstar engineer to join our team. Meanwhile, Edvinas was invited by one of his friends to a party and there, he met Arnas. So essentially, parties were what glued us all together. Arnas then joined our team, Daumantas returned from the US where he was staying with a friend and the four of us came together to work full-time on the business."
"We've had many difficult moments, but it's the people around you that help you to overcome most challenges…
We've had many challenges and difficult moments. I think if I'd have been alone on this journey, there would have been moments where it was tempting to give up. But having a team and people around me has definitely helped. You have up and down moments—both personally and professionally—but when you have a team, it's unlikely that all of you have these down moments at the same time. When one of us felt down, we'd see the other team members being enthusiastic and energetic and it helped us to stand up and contribute to that feeling. 
Teamwork definitely helps. Even when things are really good, some challenges are simply too difficult to solve alone. Having the support of the founders was great, and once we started growing, team support became invaluable too. Today, most of the challenges are solved by individual teams and the support we get from our investors and stakeholders, who have believed in us during difficult times. Again, it's the people around you that help you to overcome most challenges."
"I see our culture as a living thing; it's created, shaped and improved by everyone who works here…
Our culture at TransferGo was created by the people. As founders, all we had to do was lead by example and hire the right people. From our experience, we've definitely made some mistakes along the way, but we've always been open to change. The decisions we've made and the people we've hired have all come together to create the culture we have today. I think we've contributed to it but I really see the culture as an artwork of all the people who have ever worked at TransferGo. It's a living thing. And it could possibly change again due to the people who might join us in the future. When we hire people, it's important that we get the right individuals who will shape and improve our culture and take it forward.
We've had values since day one. Of the five we have today that were put together by company culture ambassadors, my favourite is probably 'Building trust'. I believe that if you create an environment where teams, employees, investors and stakeholders trust each other, the whole process becomes much faster and the challenges you face become easier to address and solve. The way I see it is that trust glues all the other main values together. I enjoy the things that take a bit longer to create. Putting trust together is a long process; you can't cut corners. And if you get it right, all the other values become easier to enforce."

"I'm very proud of our Customer Support team; they're hardworking and professional and genuinely care for our customers…
When I think of what I'm most proud of with TransferGo, I think of our Customer Support team. I guess one of the reasons why I have so much love for the team is because I started my career in Customer Support. I know the experience and I understand the first-hand challenges those guys might be facing. Some days might be easier, and some days might be more difficult. 
If there are bugs anywhere on site, it's usually the Customer Support team that suffers. I'm so proud of the team itself and what they've created; they're hardworking and professional and genuinely care for our customers. It comes back to some of our earliest employees; they managed and created processes around hiring Customer Support people and now, I see team leads carrying that same attitude. They then go on to hire people with those same values. I know that many other people at a senior level are also very proud of our Customer Support team. It might sound straightforward to care for your customers and go the extra mile for them, but many other companies are very much behind in this area. We're definitely doing the right thing."
"I see success as a continuous process; there's still a long way to go before TransferGo could be considered successful…
I don't think that we're at the stage yet where we can say we're successful. I see success as a continuous process and I think there's still a long way to go before we could be considered successful. After all, where does success end? It's difficult for us to stop and reflect, but when I do I'm amazed at what we've managed to achieve but I'm more excited about our journey. To paraphrase Steve Jobs, the journey itself is the reward. It's that, rather than the end result, which satisfies me. That said, when I look back at where we are today and reflect on the difficult moments, I definitely feel proud of what we've managed to achieve."
"Our teams have transitioned well to remote working, but hiring and training new people has been challenging…
When Covid-19 came about, we already had plans and ideas for the year to implement and we had a team so it wasn't difficult to transition. The core teams already knew each other and understood what needed to be done. When it comes to sharing ideas, however, the office environment is much better because people can see and share random ideas with each other. This is what working from home lacks and what we need to reinvent somehow: the idea generation engine.
Personally, I think I'm a bit more productive working from home—there are less random distractions. That said, I feel like I spend a lot more time on Zoom calls. Usually, in the office, meetings take up roughly 50% of my time. But now, I spend around 80% of my day in various online meetings and discussions. From that point of view, it's more challenging and things take a little longer to address and solve. So on the plus side, working from home brings fewer distractions. But on the negative, you're spending more time in meetings. So they probably end up offsetting each other.
I'm proud that TransferGo teams have coped really well with the transition. It helped that we had all the infrastructure in place; most of our employees had laptops and most of our systems were in the Cloud so we already had a working-from-home strategy in place. That said, doing it five days a week is completely different. The biggest challenge has been getting new people onboard; hiring and training them was probably one of the most difficult situations to adapt to. But I'm pleased to say that the teams have managed it."
"Becoming part of our customers' daily lives and making money transfers as easy as sending a text message is one of our key priorities…
Looking ahead, our product ambition is definitely to expand our range. Essentially, we want to make it a seamless experience for customers to move money from one country to another. International transactions have always been our biggest pain point. Even today, most institutions have different networks and the majority of them are still not communicating well with one another. We want to make money transfers as easy as sending a text message. 
At the moment, customers might be using us once a month or fortnight, but we want to become a part of their daily lives. It's one of our first priorities and challenges in the short term so that's what we're working on. We want to become a daily companion as customers send money between different friends, family, banks, countries and so on. We want to be the ones providing this seamless, real-time experience for transactions.
My personal ambition is to build a lasting company. For me, that's probably the definition of success: a lasting and self-sustaining company. The point when we can eventually step back and watch the company continue successfully will be the marker of success for me." 
"The biggest challenge of Brexit for us was the timeline and the lack of communication and information…
The lack of communication and information around Brexit made the whole process a lot more challenging. The fact that we didn't know what to expect until the very last minute was probably one of the biggest difficulties for TransferGo and other businesses. Essentially, we prepared for the worst-case scenario. And from my discussions with businesses in other sectors, everyone was doing the same. This meant that it became a very expensive and long process as we had to look into every single detail. The worst-case scenario for the fintech sector was the one that actually happened, so planning like that turned out to be a good thing.
Today we're operating two licenses: one for our customers in the UK and one for our customers in Europe. Setting up a separate license for our customers in Europe was challenging, but we managed to do it. The uncertainty and lack of information and communication created this stressful and painful experience for most businesses. And the way it happened was definitely an example of what not to do in the future."
"At school, I was into science and maths but I also played the piano. Giving up is one of the things I regret now…
I used to play the piano at school. Unfortunately, I stopped learning to play because I started playing basketball but I'd love to be able to play it now. Maybe one day I'll pick it back up. It definitely helped me to develop personally at school; it's an interesting art. I was quite into science and maths at school so playing the piano was one of the few things I did that related to art. 
At present, I live in London but I used to regularly go back home to Lithuania to visit family. But we've only been once since the pandemic hit. It was back in August and we attended my sister's wedding. Living in the North of England for a while was an experience I'm grateful for as it allowed me to see the rest of the UK. London is like a different world; you don't tend to travel too far away from it once you're here.
Once Covid-19 is over and life is back to normal, the first thing my wife and I are going to do is visit our families in Lithuania. Whilst we still have daily communication via various messaging apps, we really miss those close, real-life connections."
______________
And until we can all enjoy those real-life connections again, TransferGo is here to help. Sign up now for easy online money transfers.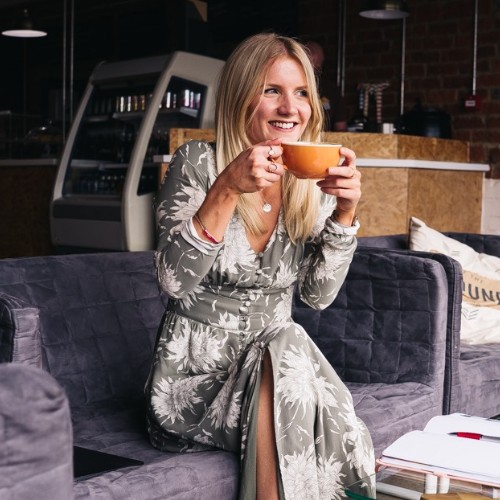 About the author
Jennifer Tate
Jennifer Tate is a freelance copywriter based in Newcastle upon Tyne with over 12 years of experience in creating copy and content for both leading brands and independent start-ups. Working across a variety of sectors from fintech to fashion and healthcare to homeware, Jennifer specialises in content creation, content management and social media strategies and has worked with TransferGo since 2017, shaping and creating the company's LinkedIn and blog post output. As well as TransferGo, Jennifer has also recently created copy and content for Charlotte Tilbury, carecircle, Tommee Tippee and Robinson Pelham.